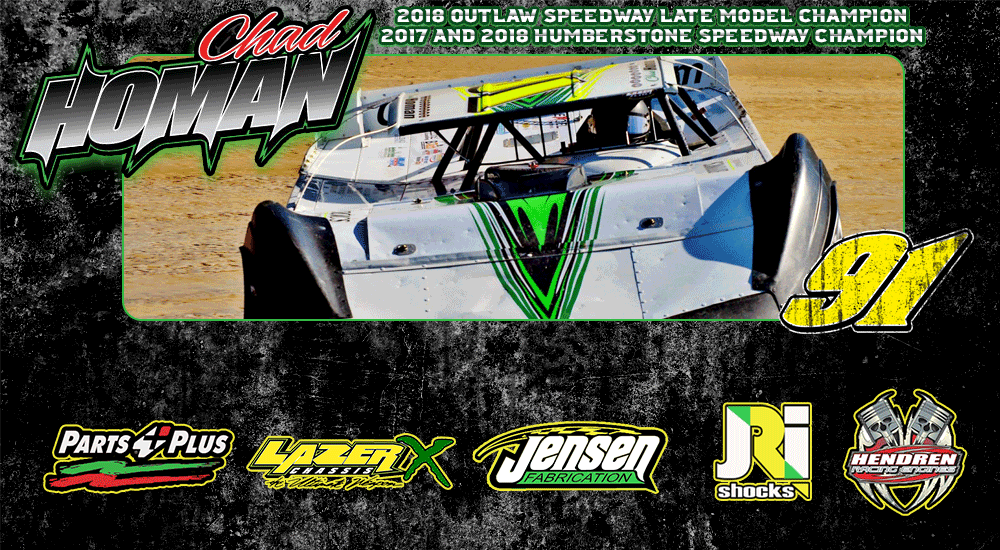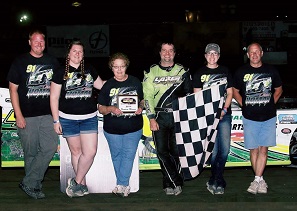 Now 38 years old, Chad Homan has established himself as a veteran in the racing world. Over the past twenty four years, he has steadily moved up through the local racing levels. His recent accomplishments include securing the 2018 track championships at both the Humberstone and Outlaw Speedways.
When he was 8 years old, Chad competed in Microds all over New York State. During his 6 years of competition, Chad earned two track championships and three top-five points finishes in the New York State series. When he was only 15 years of age, Chad moved up to the Dirt Pro Stock division at Canandaigua Speedway. Over the eight seasons between 1998 and 2005, Chad developed himself into a prominent force in the Dirt Pro Stock ranks, earning 23 feature wins, including 1 Super DIRT Series Pro Stock win at Rolling Wheels Raceway. In addition, Chad was a perennial championship contender, with 4 straight 2nd place finishes in championship points at Canandaigua Speedway.
Late in 2005, Chad teamed with the newly formed 1 Up Motorsports organization to develop a new DIRT Modified team for the 2006 racing season. Along with making the jump to the modified division, Chad also expanded his 2006 race schedule to include all of the races at Canandaigua Speedway, and Cayuga County Fair Speedway. Together, Chad and 1 Up Motorsports had a very successful and competitive rookie season in the Big Block Modified division. On June 7th, 2009 all of the hard work paid off as Chad fulfilled a lifelong dream and won his first Modified feature at Cayuga County Fair Speedway. The team then turned around the following season and won the 2010 Steel City Stampede at Lernerville Speedway, earning Chad his first BRP Modified Tour victory. 2011 proved to be a trying year, as engine problems left Chad and the team sidelined for much of the season, but they returned to victory lane in 2012 with a win at Rolling Wheels Raceway during Super Dirt Week.

After continuing in the big block modified division in 2013 through 2015, the team was ready for a change in 2016 and made the switch to a crate late model. After working closely with Berheisel race cars, Chad was able to dial in the set up and find success in nearly their first race out of the gate. Chad had X wins at his home track of Canandaigua Speedway in 2016 which securing him that year's track title.

The 2019 season brought many new experiences including racing at Autodrome Granby and Le RPM Speedway in Quebec along with first time late model visits to Genesee Speedway, Brewerton Speedway and Woodhull Raceway. Overall the team had a successful year, securing the Fulton Speedway track championship and winning marquee races at the Brighton and Fulton Speedways.

While our 2020 season was drastically impacted by the COVID-19 pandemic we were still able to pick up 8 feature wins and a 3rd in a RUSH series tour race. Hopefully things will be back to normal in 2021 and we can get back to running multiple times a week as well as traveling to new tracks.

Racing is most definitely a team sport and Chad Homan Racing has one of the best crews around. It is because of the constant efforts and support of Wayne, Nancy, Marilou, Eric, Scott, Brandon, Ryan, Allison, Kathi, Brian, Grace, Doug, Kathi and many others that we have been such a successful and competitive team.
Hometown:
Macedon, NY
Birthdate:
September 20, 1982
Height:
5'10"
Weight:
190 pounds
Marital Status:
Girlfriend - Marilou
Education:
Clarkson University
Masterís Degree in Computer Science
Bachelorís Degree in Computer Science
Bachelorís Degree in Mathematics
Occupation:
Software Developer
Hobbies/Interests:
Sports, iRacing, and biking
Music:
Guns-n-Roses, AC/DC, Lynyrd Skynyrd, Kid Rock, most any classic rock
Movies:
SAW Movies, James Bond Movies, Ferris Bueller's Day Off, Days of Thunder, Office Space
Television:
WWE Wrestling, CNBC Network, and any kind of racing
Books:
No Time For Goodbye, Too Close To Home, Fear The Worst...Anything by Linwood Barclay